Job opening at ATHS--Math Teacher. Join an awesome team at ATHS. Contact Darren Loschen at 217-569-2122 or by email
darrenl@aths225.org
.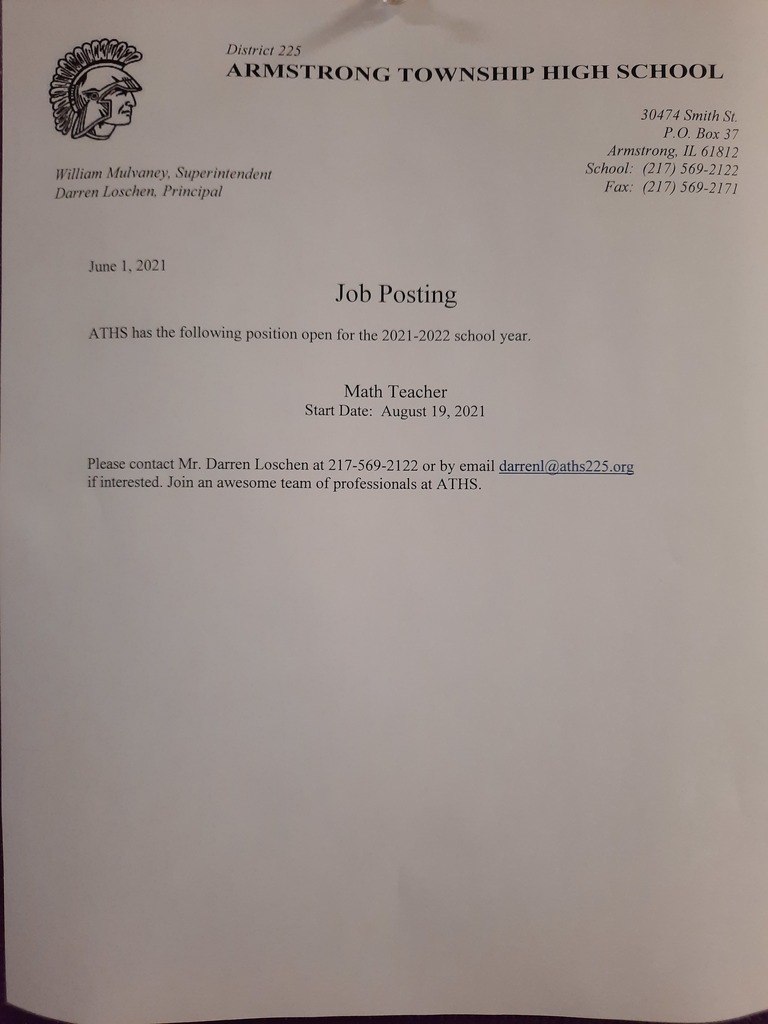 Softball at Watseka today, 4:30pm; Girls Track Sectional on Wed., June 2 at SJO, 4:30pm

Baseball at BHRA today, 1pm

Starting time for softball games at BHRA on Monday, May 31 has been changed to 11am.

Softball team will play at GRF today at noon to complete the suspended game from Friday.

Softball game will be in Potomac today vs GRF. Game will try and start between 4pm and 4:30pm

Baseball and softball games at Blue Ridge are still on as of 2:35. May start 15-20 minutes later.


Teachers' Institute on Thursday, May 27.

Baseball and softball at Salt Fork today, 4:30pm

VVC Track meet today at Salt Fork--4pm; Softball at Hoopeston today--4:30pm; Baseball home vs Hoopeston today--4:30pm

Final exams start today, May 24--Periods 7 and 8; May 25--Periods 2, 4, 6; May 26--Periods 1, 3, 5

Baseball/Softball home vs Westville today, 4:30pm

Update to softball schedule--there is no game on Saturday, May 22; the game at Hoopeston is now Tuesday, May 25.

Baseball home vs Mahomet today, 4:30pm and softball home vs Villa Grove today, 4:30pm

Computer science project--senses soil moisture and will automatically water when moisture is low.

Softball home vs PBL today, 4:30pm; Track at BHRA 4pm

Sports pictures will be Friday morning at 8:05am for baseball, softball, track, and wrestling. Athletes need to come to school dressed in uniform and check in with their 1st hour teacher and then report to the gym.

Change in game today--softball game will be in Potomac now-4:30 start vs Chrisman.

Baseball game has been cancelled for today.