First quarter ends on Friday, Oct. 16.

Parent/Teacher conferences--Oct. 21, 3pm to 7pm and Oct. 22, 2:30pm to 6pm. Call the school to schedule an appointment.

VVC cross country meet at Kickapoo--4:30pm today.

A reminder that there is no school on Friday, Oct. 9 and Monday, Oct. 12.

Thanks, Trojan fans for the support we received in the WIXY School Spirit Showdown.

CC meet at Kickapoo on Saturday, Oct. 3. A-P runs at 10am.

CC meet at Heritage Lake Park in Rantoul today--9/29/20. Boys run at 4:30pm and girls runs at 5:15pm.



CC meet at Cissna Park today--4pm. Let's go Trojans!

Congratulations to the 2020-2021 Student Council Officers: President: Mason McMasters Vice President: LeAnne Rogers Secretary: Anna Duden Treasurer: Emma Franzen

11:15 am dismissal on Wednesday, Sept. 23, for teachers' inservice.

A-P golfer Anna Duden took second place with a 42 tonight at the Watseka invitational golf meet.

Cheerleading tryouts next week.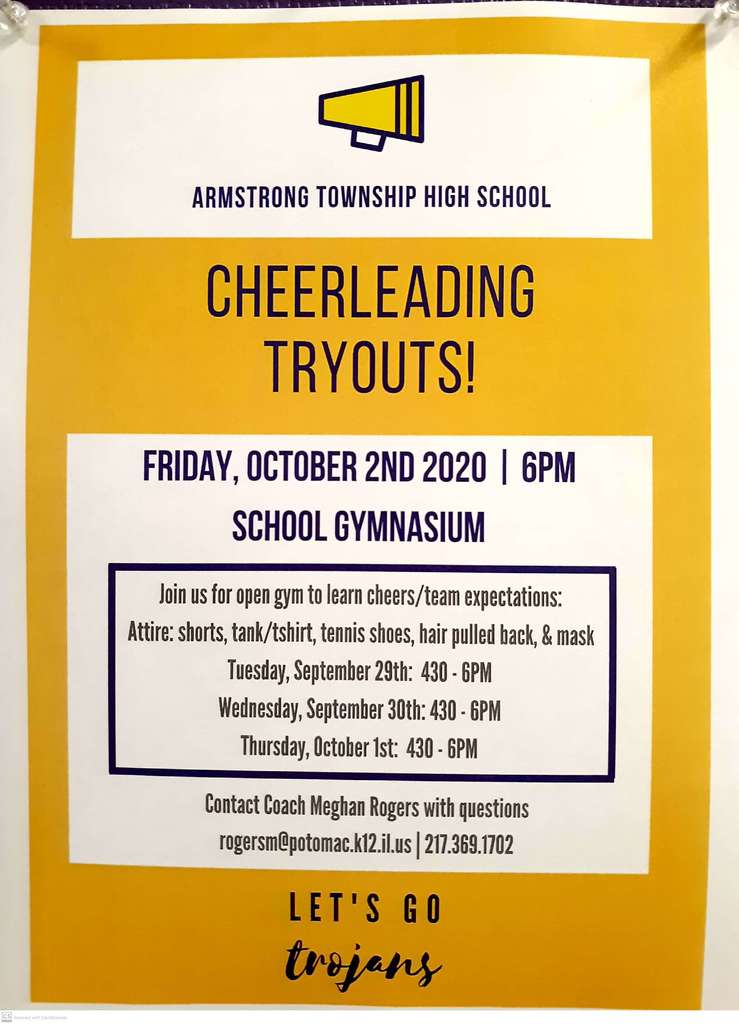 ATHS will remain on a 2pm dismissal schedule through the rest of the 1st semester. The 1st semester ends on Dec. 18, 2020.

FFA Jacket orders are due to Ms. Swalve by September 25th. If you need a sheet or have any questions, see Ms. Swalve.

CC meet at Cissna Park today, 4pm

Buy your 2020-2021 yearbook now for $40 (the lowest price of the year). Get 4 free icons with $6 personalization. See Mrs. Bailey or go to Jostens.com

All applications for Student Council must be completed and turned in by Tuesday, September 15th. If you have questions, ask Mrs. Ashcraft or Ms. Bartlett

Don't forget--picture day is Friday, Sept. 11.